An Awesome First Word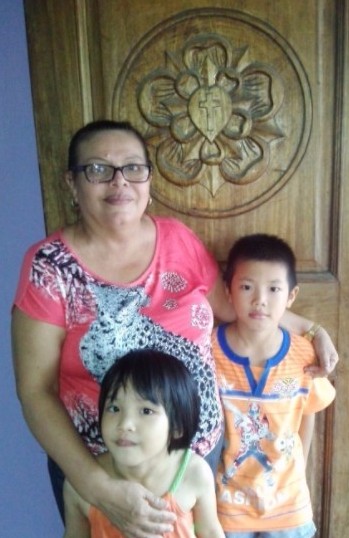 This 4-year-old girl couldn´t speak or smile, she couldn´t even look you in the eye when you spoke with her. I saw in both Miley and her brother Kenny a special need for love and attention. I didn't know what was going on with them. 
Then I started to investigate in books about their behavior, and based on the information that I found, I started to work with them. First, I needed to remove any fear in them to talk.  In Kenny, I could see the progress, however, Miley was still kept in her silent world.  Anyhow, I stayed praying for both of them, and I asked the support of Deacon Milton, Nenoshka and all the congregation in prayer, because it was a special case.  
In the early months of 2015  I began to see a change in Miley. You could talk to her and she began to pay attention. I started to use the puppets to make her laugh. She would follow instructions such as: Could you bring your book? She began to work all the assignments very successfully. Then I started to teach her the first words of any baby to encourage her to speak, but she didn´t.  One beautiful day of August 2015, after praying for the meal, Miley finally spoke her first word, and it was:  Amen!
For me, this experience reveals that we should not give up, no matter how difficult the situation may be.  We must persevere in wisdom and love, and must stay strong our trust in God, because I know it was only possible due to the fact that we have an Almighty God.
Miley has been my motivation to continue working, also my willingness to serve to any other child that should come to us looking for help.  I thank you for your prayers and support.
Warm regards,
Venancia Marín
You can support the Children's Ministry programs at Gloria Dei and four other sites in Panama with a gift to CALMS.  Your generous support makes transformation possible by providing resources for Venancia and other tutors to show the love of Jesus to children like Miley.   Will you make a monthly gift of $15?