Who are Disciples of Jesus and What do Disciples Do?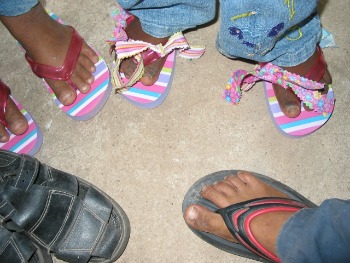 When we look at the people around Jesus, we can see that not everyone who spent time with Jesus was called a disciple of Jesus. The Gospels describe people who were taught by Jesus, received bread, healing and forgiveness from Jesus. But only certain people who were loved, forgiven, and saved by Jesus were called disciples of Jesus. What distinguished disciples of Jesus from the others who hung around Jesus wasn't that they were loved more or forgiven more, or that they had a superior faith. So disciples were not better than others. But they were different. 
The disciples of Jesus that we read about in the Gospels were people who had a special relationship with Jesus. Disciples were called by Jesus to "follow me." The purpose of their following was not just to learn Jesus' teaching, but to imitate how He lived out His teaching. They were called to imitate his lifestyle and put his teaching into practice. So from this we can say that a disciple of Jesus follows Him. 
So what does being a disciple of Jesus look like? 
In our CALMS' ministry we often tell our short-term leaders that God is calling us as disciples of Jesus to use our "heads, hearts, hands and health" (the 4 Hs) to serve Him. What we mean is that in addition to knowing the facts about Jesus and His kingdom work, we are to use our hearts as we reach out in compassion to the hurting around us. We are to use our hands to serve others in need. And, we are to work in healthy ways with others in the Body of Christ and as we relate to those who are not yet followers of Jesus. 
So being a disciple of Jesus is more than following the moral standard of Jesus or the theology of Jesus. Being a disciple of Jesus means following His Spirit and looking for ways to extend God's kingdom by becoming personally involved in His mission. 
That brings us to one of the most important distinctions between being someone who is merely interested in Jesus and being a true disciple of Jesus. A disciple of Jesus follows Him and shows others how to do the same. Being a disciple of Jesus means showing others how to follow Jesus too. 
So what do disciples of Jesus do? 
Jesus did not seek to please Himself, but the Father who sent Him. And, that should be our main goal as disciples. Disciples of Jesus seek out opportunities to share God's underserved mercy. Wherever grace is needed, as His disciples, we are called to join Him in bringing that grace to others. Wherever there are people who are living in fear, ignorance or confusion, we have the opportunity to join God on His mission to bring peace, spiritual enlightenment and understanding. 
Essentially then, disciples of Jesus recognize and respond to what Jesus is already doing in His world. They gather with other disciples to pray, study God's Word, and encourage each other to live significant lives. And, they go out as individuals and with other disciples to serve in Jesus' name--in their daily lives where they normally live -- and from time to time as members of short-term teams!
Over and over again, in our CALMS ministry we have seen that before we ever came into a new village or mission setting, God was already at work. Our job, and the job of mission teams who work with us, is to recognize what God is already doing and to seek His direction for what we need to do as we come alongside of Central Americans.
As our US partners and their short-term teams serve in long-term relationships, they become more and more confident in accepting God's invitation to join Him on His mission to make other disciples in Central American and also in their own hometowns. In the process of helping others know and follow Jesus as His disciples, they themselves invariably grow as disciples of Jesus. That's why we do what we do and why we would like you to join us on His mission!