Healthy Relationships are Key to Growing Disciples – Disciples of Jesus seek to develop a relationship with God; with other Christians and with those who are not yet Christians. These are our UP, IN, and OUT relationships!
UP – Time spent with God where we develop in intimacy with him and learn to know His heart  
Biblical Principle of UP:  "I am the vine; you are the branches. If you remain in me and I in you, you will bear much fruit; apart from me you can do nothing." (John 15)
Key practices that develop the Upward Relationship with God: weekly participation in worship, personal Bible study, and daily prayer.
IN – Time spent in relationship with other believers where we grow & experience authentic community  
Fellowship; Encouragement and exhortation; Teaching and Bible application together;  Strong, open relationships developed by spending time with one another; Mutual support and encouragement; Accountability; Giving and receiving counsel and advice.
Biblical Principle:  "Every day they continued to meet together in the temple courts. They broke bread in their homes and ate together with glad and sincere hearts, praising God and enjoying the favor of all the people. And the Lord added to their number daily those who were being saved." (Acts 2)
Key Practices that develop our relationships with other Christians: participation in a small group; participation in Bible study with others; sharing life by eating together and playing games or sports.
OUT – Time spent serving believers and time spent seeking and serving lost and hurting people who are not yet Christians in order to be a blessing and extend God's kingdom
Biblical Principle: "Therefore go and make disciples of all nations, baptizing them in the name of the Father and of the Son and of the Holy Spirit, and teaching them to obey everything I have commanded you. And surely I am with you always, to the very end of the age." (Matthew 28)
Practices that develop the Outward Relationship with non-Christians and the World:  Prayer Walking; building relationships with those who are not yet followers of Jesus, identifying ways to help the poor and underserved in your community and around the world, and participating in a short-term mission trip.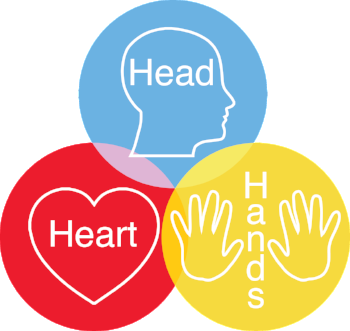 The Three Hs:   Head, Heart and Hands
Head – Disciples learn important biblical principles and grow in understanding of God's plan for the world and their place in his plan.  
Heart – Inspired by God's Word and motivated by His Spirit, growing disciples develop their spiritual gifts and are motivated to share the Gospel, serve others and demonstrate God's heart of love, mercy and compassion.
Hands –Disciples practice their faith by serving others in need and sharing the Gospel through demonstration and proclamation and, deploying their spiritual gifts to build up the Body of Christ and extend God's kingdom.