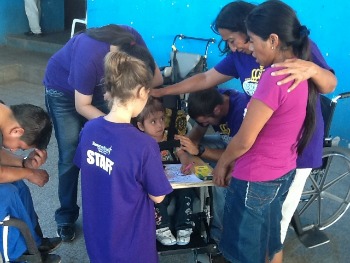 In our baptism, God connects us to Himself and His church where we are strengthened through His Holy Word and motivated to carry out His mission in the world.
We are baptized in the name of the triune God: Father, Son and Holy Spirit, and thereby empowered to serve as God's instruments and ambassadors in the world. When we speak therefore, even with poor Spanish, we can be sure that we are doing so with His authority and strength. Our baptism gives us the confidence we need to serve God in our own homes, communities and even in Central America. 
CALMS' volunteers and short-term team members who go as Christ's representatives to serve in Central America may feel that they do not have all the experience or skills needed to accomplish great things for the Lord. Yet, we have seen time and time again, that when people are willing to learn and to work humbly with other Christians, God is able to use them to extend His kingdom. Each baptized Christian has been given at least one spiritual gift along with the gift of faith. Working with fellow volunteers and with Central American Christians, we have seen many short-term team members become more confident in using their gifts and more willing to share their faith with others.
In addition to helping others through participation in God's mission in Central America, God can use your involvement as a way to help you grow spiritually and to live out your baptismal covenant.