CALMS' Mission Philosophy in 4 Steps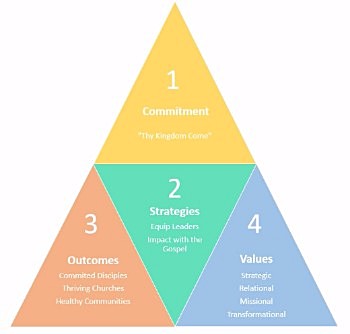 1.      One Commitment:
Help God's Kingdom Come – "Thy Kingdom Come…"
2.      Two Strategies:
           a)      Create capacity of leaders – equipping spiritual, educational, health and community leaders
           b)      Impact communities with the Gospel through proclamation and demonstration
3.      Three Desired Results:
          a)     Committed Disciples who know their spiritual gifts and use them to build up and extend the kingdom.
          b)     Thriving Churches Spirit-led churches with a growing number of committed disciples that reach out with the Gospel to the lost, demonstrate generosity and concern; are led by their own leaders following their own decision making processes. Such churches are Biblically sound and culturally relevant as they share the Gospel in word and deed.
           c)     Healthy Communities better education, improved infrastructure, better health, growing economic opportunities, and a growing number of disciples   who are committed to helping their community thrive.
4.      Four Values that guide CALMS' decisions and actions:
          a)     Strategic – Working with appropriate responses & actions as we serve with our Central and North American partners to advance the above three desired results.
          b)     Relational – Working sensitively with a focus on personal relationships and respect for all those whose lives we touch, and always in sync with our U.S. and Central American partners.
          c)     Missional – Working with Biblical mission principles and avoiding paternalism and dependency.
          d)     Transformational – Focusing on real change including evidence of community unity, individual spiritual growth, and church renewal.