Help Churches Grow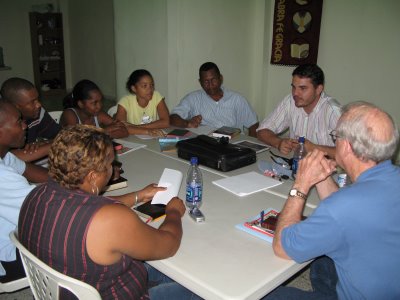 CALMS focuses on helping local congregations grow and thrive in spiritual maturity and discipleship and in numbers of new believers.
CALMS has discovered that when we help local congregations reach out with the Gospel and serve their communities; they become powerful models to help other congregations grow and thrive.
While there is certainly an important role for national structures, we have found that by helping local congregations grow, we can make a bigger impact on other congregations within a national church. So CALMS focuses on what we describe as our "bottom-up" approach to ministry as opposed to a "top-down" approach that seeks to drive change through a formal structure where it can often be side-tracked or forgotten.
CALMS has developed resources to about the characteristics of a healthy church train North American volunteers we send to work in Central America. Among these characteristics is the desire to reach out with the Gospel and a focus on planting new churches.
Volunteers and CALMS staff work with Central American congregations to help them understand their communities and to impact their communities. Through research projects that often involve both US and Central American congregational leaders, we help both groups learn to listen and ask questions in a cross-cultural setting. We find that this offers valuable insights to both North American and Central American Christians and their churches and gives them an incentive to share their faith in relevant ways.
Through strategic projects designed by CALMS staff in dialog with Central American leaders, we are able to shape effective partnerships between North Americans and Central Americans those churches grow. Examples of such projects include seminars about effective outreach and witnessing, missional small groups, how to teach effective Sunday school classes, improving the congregation's stewardship, discovering and using Spiritual gifts of the congregation and how to serve the community.
Check out examples under the "Send Mission Teams" section of this website that describe how CALMS' short-term teams from the United States are serving with Central American Christians to help grow the churches.