Impact Belize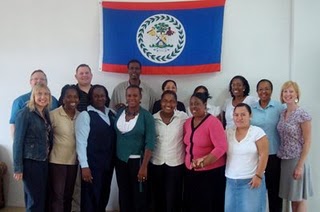 A CALMS team of four counselors, Dr. Mark Hannemann, Dr. Amy Marty, Justin Hannemann and Sarah Wichmann, made a big impact in Belize City June 11-20, 2009 as they provided a week of training on how to counsel to Christian workers desiring to grow in their skills and ability to reach out to hurting people in their communities! This project is an example of how CALMS seeks to impact whole communities by
"training trainers."
Impact Guatemala
Medical Team
CALMS' partner congregation, Trinity Lutheran Church (Richmond, VA), worked with CALMS' Guatemala partner, Dr. Elry Orozco, to provide a medical/dental clinic to residents in and arouind Amatitlan, Guatemala (about 30 km south of Lutheran Church in Guatemala City). Participants included: George and Hollie Mueller (physician/nurse practitioner), Jim and Kathy Dageforde (physician/translator), Peyton Wilson (translator), Evelyn Krausz (dental assistant) and Bob Bigelow (dentist). Dr. Elry Orozco and his wife, Liz, and sons, Andres and Samuel, all helped make the clinic run smoothly. The volunteers and the Orzocos saw patients in the clinic at Amatitlan for three days and for a half day in Llano de Animas, a mountain village nearby. In all, the team and their Guatemalan partners saw 202 medical patients and 44 dental patients. The Virginia team also purchased two new shelving units to organize and store the medicines brought by the team. The Richmond team was blessed by their experience in serving the people of Amatitlan and Llano de Animas and the special relationships built with the Orozco family that week. They helped Dr. Orozco impact these two communities with needed medical services and the Good News about Jesus' love for all people!
Concordia Seminary Team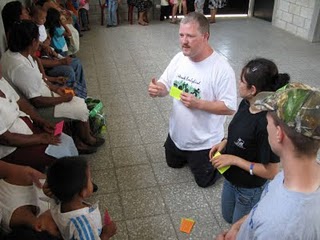 Concordia Seminary student, Martin Hasz, shares the Gospel with patients waiting to see Dr. Elry Orozco, at a special clinic in the village of Llano de Animas, near Lake Amatitlan, about 30 km from Guatemala City. Martin was part of a group of seven seminary students and two wives who joined Pastor Steve Hughey, Executive Director of CALMS, for a week-long mission exposure trip in late May, 2009.