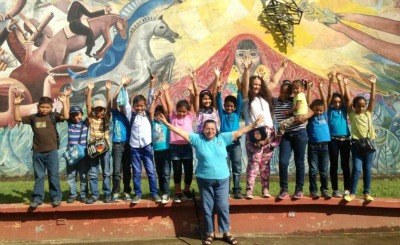 CALMS has worked in Panama since 1999 when it began to support Lutheran missionaries and national workers serving in that country. 
Though the congregations are made up of many young people with an average congregational age of 20, it is encouraging to see that they are reaching out with the Good News of Jesus to their neighborhoods. Youth in these congregations regularly teach Sunday school and share their gift of music to help lead the worship services. 
Four of the congregations are leading tutoring programs for the children in their communities using funding provided by CALMS' partner congregations in the United States. These programs open doors to help the congregations build relationships with children and their parents and to teach God's Word.
CALMS has a formal agreement with the national church, the Iglesia Evangelica Luterana de Panama  (IELPA), and with each of the congregations, allowing us to send short-term teams to serve in Panama. CALMS teams focus on leadership development and helping IELPA congregations impact their communities with the Gospel through proclamation and demonstration. 
Panama is a safe country, and has become in recent years a strong democracy with a growing economy. It boasts modern hospitals, good highways, and of course, the Panama Canal that brings in trade and businesses from all over the world.